Yamfly
Common Name In Sri Lanka:

Yamfly

Scientific Name:

Loxura atymnus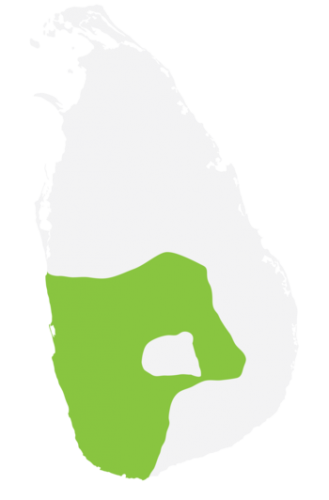 More Abundant
Absent
Less Abundant
Share This Page
Physical Characteristics

The sexes are alike. The hindwing tornus is developed into a long, curly tail. The upper side is bright orange with dull scales at the base. The forewing has a broad, black band commencing half way from the upper margin and goes across the apex up to the end of the outer margin. While the background colour of the underside varies, it is always paler than the upper side. It has a distal band of markings along both wings and some irregular patches located basally to the band. These markings are almost indistinct in some individuals. The tip of its tail is white in colour. The eye is prominent against its white body.

Habits

The Yamfly has a lovely appearance in flight due to its long tail streams. It flies delicately among scrubs, and along pathways in forests. It doesn't fly too far even if it is disturbed and returns to the vicinity. It basks in the morning with partially opened wings, perching on the edge of a leaf while heading outwards. It feeds on flowers. 

Habitats and Distribution

This is a butterfly of the low country wet and intermediate zones. It inhabits forest corridors, trails and lush gardens, but avoids dense forests. 

Larval Food Plants

Smilax perfoliata, Smilax zeylanica, Dioscorea alata.
Photo Credit
Himesh Dilruwan Jayasinghe