Sri Lankan Tamil Bush Brown
Common Name In Sri Lanka:

Sri Lankan Tamil Bush Brown

Scientific Name:

Mycalesis subdita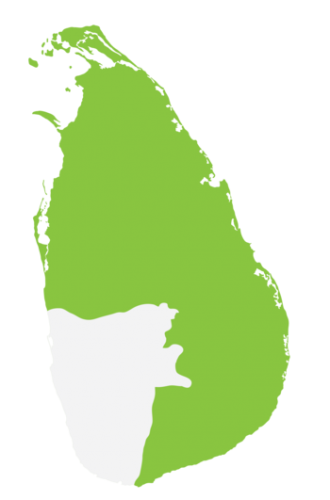 More Abundant
Absent
Less Abundant
Share This Page
Physical Characteristics

The sexes are alike except for the large light brown sex brand in males found on the underside of the forewing. The upper side is dark brown with a large 'eye spot' on the forewing in both dry and wet season individuals. Sometimes a small, faint 'eye spot' is apparent on the hindwing. The outer marginal lines are marked in light brown. The size and the number of the 'eye spots' on the underside vary. Usually the female has larger spots and the wet season form bears the largest. The four lower spots on the hindwing are arranged in a straight line. The area between the white oblique line and the outer margin has purplish grey dustings. The white band diffuses towards the outer margin more laxly than in other Bush Browns, but this is not always apparent. 

Habits

Habits of the Tamil Bush Brown are very similar to Medus Brown. It never moves from one shady location to another across an opened-up area during mid-day. If it wants to do so, it waits until the evening.

Habitats and Distribution

It is found in shady habitats and occurs together with Common Bush Brown throughout the dry zone. It is fairly abundant in the north of the island and the savannahs in the Uva Province.

Larval Food Plants

Axonopus compressus and Panicum maximum.
Photo Credit
Himesh Dilruwan Jayasinghe