Banded Peacock
Common Name In Sri Lanka:

Banded Peacock

Scientific Name:

Papilio crino
Size of Butterfly:

Tiny (30 mm > wing span)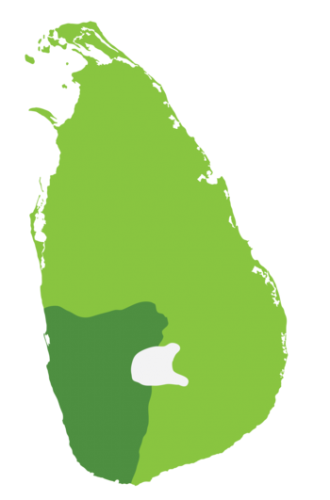 More Abundant
Absent
Less Abundant
Share This Page
Physical Characteristics

The Banded Peacock has a median band on its upper side. This is quite narrow in females. The colour of this band varies from emerald green to royal blue according to the angle of light. Other areas of its wings are uniformly dusted with shiny scales on a black background with an 'eye spot' outlined in red on its hindwing at the anal angle. The tail tip is pronounced with shiny scales. Its underside is sparsely dusted with white scales and a row of sub-marginal patches is visible on its hindwing. 

Habits

The Banded Peacock is a fast-flying butterfly, especially in hot conditions. It is also quite difficult to trace due to its contrasting colouration. It feeds on the flowers of scrubs, while hovering. Females usually fly very high to lay eggs. Males come to drying river beds to mud puddle. This is a migratory species. 

Habitats and Distribution

The Banded Peacock's usual habitat is sparse dry zone forests where its main larval food plant grows. It uses sunny, scrubland patches and openings within these forests for nectar feeding. It has been reported in the low country wet zone in isolated, ad hoc locations, but never commonly.

Larval Food Plants

Chloroxylon swietenia - most preferable, Toddalia asiatica, Clausena indica.
Photo Credit
Himesh Dilruwan Jayasinghe